Kyo (

) - vocalist
Birthdate - 16/02/1975
Bloodtype - B
Height - 160cm (5'3")
The short, wicked member of the group, Kyo is a lively, bouncing bundle of twisted energy. You've just got to watch him in action for awhile, see the expressions that go across his face, to know that there's something demented going on up there. In the most wonderful of ways, of course.
Kyo was born in Kyoto, is currently 26, Aquarius if you believe in astrology, and is known to enjoy lying during interviews, which means you can never really be sure that what he said has an ounce of truth in it. Kyo is not his real name, but he hates his own and decided to change it, choosing the Kyo from his birthplace Kyoto. He has a powerful, throaty voice that he can do an amazing number of things with, and writes all the lyrics for Dir en grey's songs. He's been known to say that he will never write a happy ending in a song. (I like that in a man.)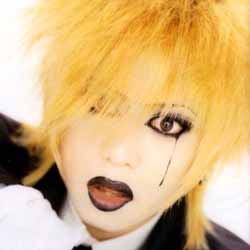 His uniquely plain face is transformed into something stunningly beautiful when covered with the sort of extreme makeup he favours, his short, spiky hair changes colour constantly, particularly to bright red and blonde, both of which suit him the best, and the kind of costumes he designs often draw upon traditional Japanese (such as kimonos) intertwined with the darker twist of the modern -- leather, pvc, corsets, cyber-esque wiring.. of all Dir en grey he's the one I will happily say has never made a poor choice in the clothing department.
I love Kyo's evil little grin. I love the way he can cover himself completely and look sexy as hell.. even sexier than when he's baring chest and thigh galore. (Which I admit has me drooling to begin with.) He knows how to make himself so much more than he might otherwise be. He knows how to fall asleep absolutely anywhere. He knows how to sound like he's vomiting or like he's orgasming in almost the same breath. Completely at odds with himself, he is too complex to be easily understood or appreciated -- when I first wanted to get inside his head, I tried to translate his lyrics to understand better, and now I am even more confused and yet delightedly amazed. Kyo is unique, a bright star, and I hope he stays in the music industry and the spotlight for a long time.